Genderboard and career
Pregnancy, parental leave and income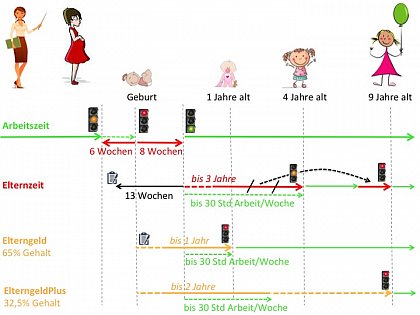 Schwangerschaft, Elternzeit und Einkommen.pdf (126.7 KB) vom 11.01.2016
Gender Equality and compatibility of family and scientific career
There is a "family office" in the MLU to improve the conditions for families at the university. Thanks to a successful audit, the MLU has been distinguished as a "family-supportive University". For example, on the Weinbergs campus there are two childcare centers accessible in priority to children of students or of university employees.
Childcare center WeinbergKids
The Student administration Halle, The Martin-Luther-University Halle-Wittenberg and the MLUs Student council offer a professional Childcare center named "WeinberKids " on the Weinberg Campus in Halle from May 6, 2013.
Children aged at least two months until the age of starting school can be supervised each Monday to Friday from 13:30 until 20:30. The supervision can be extended outside of normal opening times with prior arrangement. The care of each child is limited to three blocks (2,5 hours) per week.
The offer is for children of Students of the MLU, of Employees of the MLU and of the Studentenwerk Halle, of Members of a Collaborative Research Centre and of Participants of events organized by a Collaborative Research Centre.
Care costs of members of the CRC 648 can be covered by the CRC if the kids are registred with the SFB-secretary: Janet Huber (0345 5526291, sfb648@genetik.uni-halle.de)
For more informations see www.weinbergkids.de
Early career support
In addition to the CRC 648 internal measures for qualification the MLU provides a "career center" which offers information, advice, networking and workshops. Moreover, the "Career Center" is a partner of choice and facilitator for private companies to attract highly qualified junior staff.
Special funding for young female scientists
UNESCO-L'Oréal-programm for female scientists with children
Margarete von Wrangell-program for Women

---
---